Our "Feline Medicine and Disease Prevention" Manual is like nothing else on the face of the planet!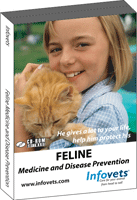 Each Feline Book contains:
Hundreds of "HOW TO" Pictures on caring for your pet.

Over 15 video clips showing health care procedures.

Emergency treatments and ways to save your pets life!

Hundreds of pages of veterinary healthcare information.

Completely searchable and hyperlinked

Available as a Printed Manual, CD-Rom, and Online, versions!

All of our information is written by practicing Veterinarians!